WELCOME TO CROSSROADS CHRISTIAN CENTER
CURRENT SERMON SERIES
JOIN US ONSITE AT 8:30 AM AND 10:30 AM https://www.facebook.com/pg/crossroadsmorganhill/videos
8:30 AM Indoor and in person service.
10:30 AM Live stream and indoor/in person service.
Kids Church will be meeting during the 10:30 service.
---
ABOUT US
Crossroads Christian Center is a Spirit-filled church in Morgan Hill. We are deeply committed to the Word of God and the moving of His Spirit. With strong programs for children, singles, young adults, and families, Crossroads is the perfect place to get connected with other Christian who are seeking a genuine and powerful relationship with Christ. In addition to our weekly ministries, Crossroads is active in the Morgan Hill Community and in local and global missions.
We Keep it Real, Simple,
and About Jesus
We Keep it Real by being authentic and living out our faith in our daily lives. We are not about religion or pretense.
We Keep it Simple by learning and applying what God's Word says about our lives and the world around us.
We Keep it About Jesus because He is our example and through Him we have new life.
---
GET CONNECTED
We believe in the importance of plugging into your community of faith and in staying connected. Visit any one of our ministry pages below for more information.
Rev. Dr. David Willis serves as the Co-Pastor. David oversees the overall operation of the church. Pastor David shares in the preaching/teaching ministry of the church.
Rebecca Gullickson serves as our Worship Pastor. Rebecca has been going to church since the first Sunday just after I was born!
Theresa Lopez is our Office Administrator and is a God fearing woman who"trusts in the Lord!"
---
UPCOMING EVENTS
Mark your calendars for the 2022 "I Thirst For You" Holy Spirit Conference! The theme this year is "I Believe!" We believe in the wonder working power of our God! Do you have need of a miracle? A healing? A reconciliation? A prodigal to return? Salvation of a loved one? Freedom from addiction or any other life controlling situation? Do you need greater empowerment and authority as you embark on the new year? Whatever you are needing, we are believing together for this! Why? Because…"Everything is possible for one who believes!" This Holy Spirit Conference is for everyone! This is a time for Holy Spirit saturation! Prophetic appointments will also be available during this gathering. Don't try to fill your need with worldly or fleshly answers–fill it with belief in your God! This is a time to invite a friend! This event is free of charge. Breakfast and Lunch will be served on Saturday too. It is time to see the impossibilities realized because "I Believe!"
---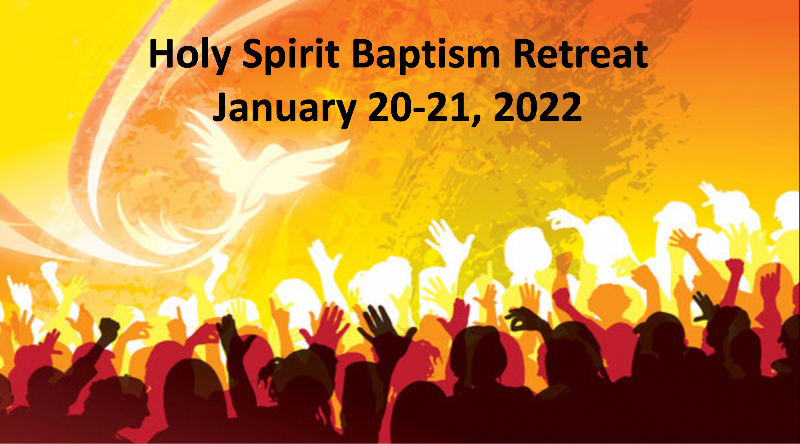 The cost to attend $150. This covers your one night stay and meals (Thursday dinner through Friday lunch). If you have never been baptized in the Holy Spirit this is the time for you to be! We believe that this gift is for everyone who has a personal relationship with Jesus Christ. Every year all those who attend are baptized in the Holy Spirit according to Acts 2 and leave changed forever. The Baptism of the Holy Spirit increases our power, authority and witness. If interested in attending, please contact Pastor Lynn below. We have purposefully scheduled this event during our January Daniel Fast. We believe our fasting will greatly increase our spiritual sensitivity. Please note: only those who commit to staying at the retreat center will be allowed to attend–the purpose for this is total focus on seeking the Lord for Holy Spirit baptism.
---
DID YOU MISS A SERMON?
Listen to any of our sermons online through the various platforms below or watch them online!